Latest news
Contact us
ADD: No. 198, Industrial Avenue, Dayi County,Chengdu,Sichuan,China
TEL: 86-28-88222970
FAX: 86-28-88221336
E-mail: alan.tyco@gmail.com

> Fiber Optic Pigtails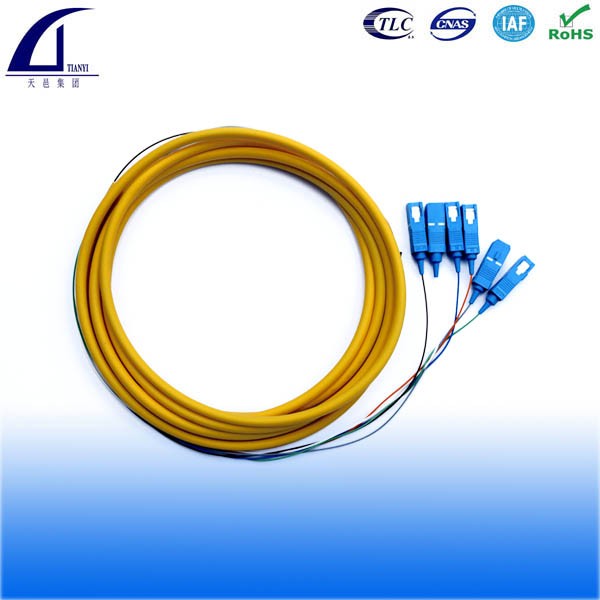 SC/APC 12 cores bundle Fiber Optic Pigtail
Product description: Bundle 12 cores SC/APC Fiber Optic Pigtail assemblied with fan-out fiber optic pigtail,directly from fiber optic pigtail manufacturer and supplier. Custom fiber optic patch cords, pigtails and fiber o
Product introduction
Description:
Bundle fan-out optical fiber optic pigtail can separate and protect fibers in a multi-core optical fiber ribbon (such as 12 cores) through a special fan-out splitter, so as to connect each fiber through a connector to make the fibers connection on ODF.
A fiber optic pigtail, also called optical fiber pigtail is a fiber optic cable capped at only one end with connector that allow it to be rapidly and conveniently connected to CATV, an optical switch or other telecommunication equipment. Its thick layer of protection is used to connect the optical transmitter, receiver, and the terminal box.
PC, UPC, and APC polish available.
Feature:
1. Low insertion loss
2. High return loss
3. Great repeatability
4. High temperature stability
5. High interchangeability
6. Simplex and duplex are available
Application:
1. CATV
2. Optical fiber communication systems
3. Optical fiber data transmission
4. Building network access
5. Cabling system, ODF
6. FTTX applications
Fiber Optic

Connectors Types

ST

SC

LC

MT-RJ

The ST




connector uses a




push-and-turn-to-




lock system.

Has a molded




plastic plug casing




and a push/pull




locking system.

Small form




factor connector




that resembles a




mini SC connector.

Small form factor




connector with a




square plastic




casing that contains




both fiber strands




in a single polymer




ferrule.
| | |
| --- | --- |
| Connector type | SC; FC; LC; ST; MTRJ; MU; E2000; MPO; SMA; FDDI; DIN4; D4 |
| Ferrule End face | PC; UPC; APC |
| Om type | 9/125UM; 50/125UM; 62.5/125UM |
| Cable quantity | Simplex; Double; 6cores; 12cores; 16cores; 24cores; 36cores; 48cores |
| Cable Diameter | Φ3.0MM; Φ2.0MM; Φ0.9MM |
| Cable length | 1M; 2M; 3M; 4M etc., can be customized |
| Cable type | PVC; LSZH; OM3; OFNR; OFNP; Plenum; Armored |
The construction of a fiber optic cable:
Cable Jacket - The outermost layer of the fiber cable.
Strengthening fibers - The strengthening fibers that help protect the core against damage during installation or from being crushed.
Coating - This layer of thicker plastic surrounds the cladding and helps protect the fiber core.
Cladding - The layer that protects the core and causes the neccessary reflection to allow light to travel through the fiber-core segment.
Core - The physical component that transports the optical data signal, made up of a continuous strand of glass. The core's diameter is measured in microns.
Explanation of Fiber Cable

Core

Cladding

Mode

62.5

125

Multimode

This number means that the core




diameter of this cable is




62.5 microns.

This number means that the




cladding of this cable is




125 microns.

This refers to the mode of




the cable.
Fiber Optic Pigtail details: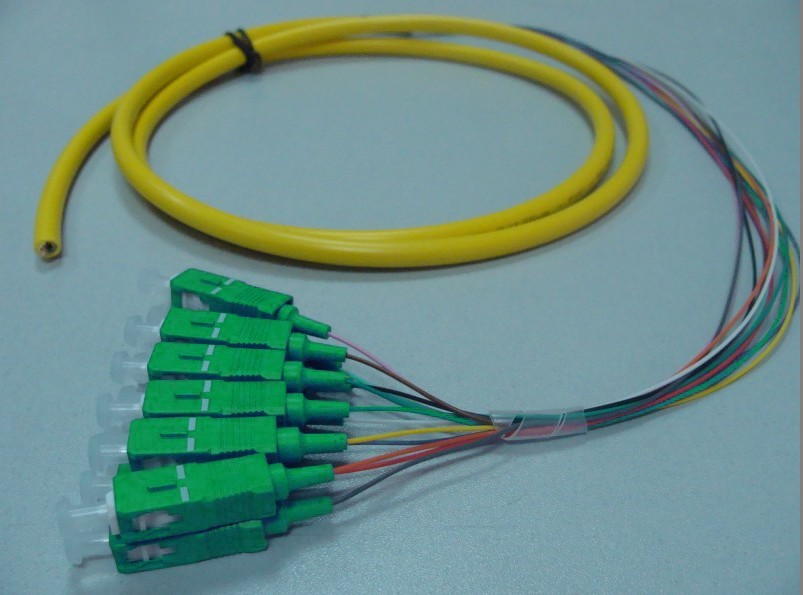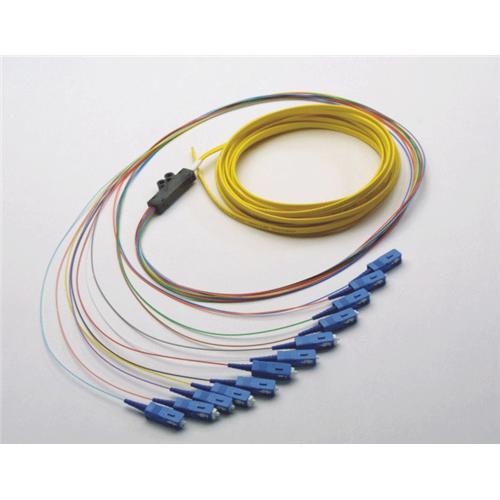 Custom fiber optic patch cables, fiber optic pigtails,fiber optic cable assembly available. Welcome to inquiry us.