Latest news
Contact us
ADD: No. 198, Industrial Avenue, Dayi County,Chengdu,Sichuan,China
TEL: 86-28-88222970
FAX: 86-28-88221336
E-mail: alan.tyco@gmail.com

> Aerial Closure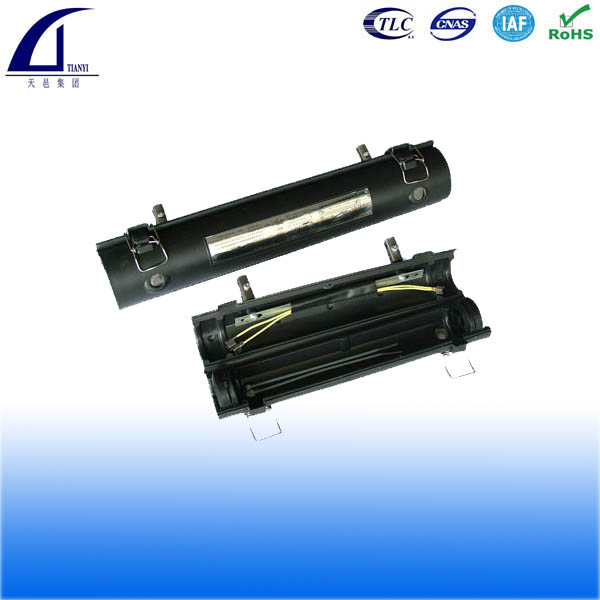 TQB Aerial Closure-free berathing closure
Product description: This TQB aerial closure provides a cost-effective solution to replace 3M™ SLiC™ Aerial Closure for copper applications, capacity up to 400 pairs 0.4mm cooper wire.
Product introduction
TQB Aerial Closure,equal to 3M™ SLiC™ Aerial Closure
Description of TQB free breathing Aerial Closure:

Free breathing TQB Aerial Closure,equal to 3M™ SLiC™ Aerial Closure, is an aerial, strand-mount, free-breathing closure for copper applications. It is also suitable for straight, butt, and branch splices of non-pressurized communication cables.
The one piece construction permits complete splice access, without removal of the closure or bonding of the cables. The closure consists of closure body, end seals and other essential components. The closure body is a lightweight, double-walled and molded plastic housing. It is weather and ultraviolet ray resistant. The durable housing will not crack or break in even the harshest environment.
TQB free breathing Aerial Closure Features:
a) asy to install, re-use and dismantled by technicians using simple tools.
b) Free opening/closing with latches, which verily achieve a zero-cost reentry without any special tools.
c) Ventilation holes at both sides of closure body perform both venting and draining functions.
d) Up to 3 cable inlets and outlets at each end for easy direct or branch-off connections.
e) Made from durable, rugged material.
Application Enviroment Aerial Closure Features:
Environmental Temperature: -40°C to +65°C
Pressure: 70~106Kpa
Operation Temperature: -30°C~+65°C
Aerial Closure Features selection chart:
SN

Specification

Closure Outer Dia.×Closure Overall Length (mm)

Max. Opening Length (mm)

Max. Splice Dia. (mm)

Cable Dia.

Applicable Cable Pairs (wire gauge 0.4mm)

Notes

Main Cable(mm)

Branch Cable(up to two branches) (mm)

1

TQB50/20-200

77×305

200

50

5-25

-

10-50

Straight Type

2

TQB56/25-350

82×480

350

56

5-25

-

50-100

3

TQB56/25-500

82×690

500

56

5-25

-

100-200

4

TQB92/45-500

115×690

500

92

5-45

-

200-400

5

TQB50/25-200

77×305

200

50

5-25

5—15

10-50

Branch Type

6

TQB56/25-350

82×480

350

56

5-25

5—15

50-100

7

TQB56/25-500

82×690

500

56

5-25

5—15

100-200

8

TQB92/45-500

115×690

500

92

5-45

5—15

200-400
Aerial Closure Accessories: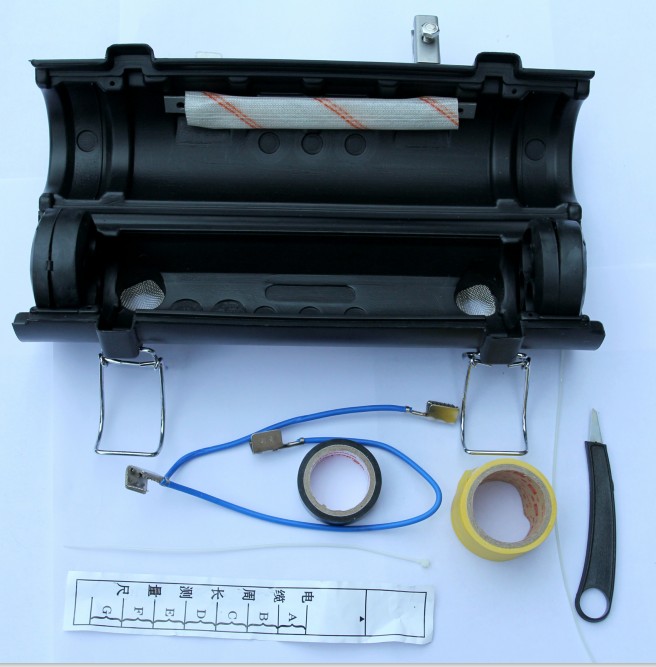 1 Closure Body
2. End seals(2 pieces)
3. Ruler (1 piece, to measure the circumferential length of cables)
4. Nylon cable ties (4 pieces)
5. Shield continuity wire and connector (1 kit)
6. Knife
7. PVC tape (1 roll)
8. Joint wrap tape (optional)