Latest news
Contact us
ADD: No. 198, Industrial Avenue, Dayi County,Chengdu,Sichuan,China
TEL: 86-28-88222970
FAX: 86-28-88221336
E-mail: alan.tyco@gmail.com

> Fiber Optic PON PLC Splitters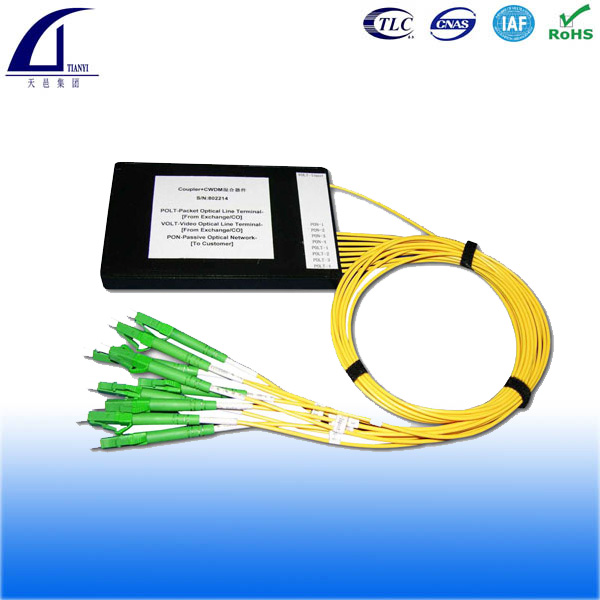 1x8 fiber optic PLC splitter module
Product description: 1X2,1X4,1X8, 1X16, 1X32 Fiber Optic Planar lightwave circuit (PLC) splitter in ABS box is a type of optical power management device to distribute optical signals from Central Office (CO) to multiple p
Product introduction
1x8 Fiber Optic PLC Splitter Module
Introduction:
Planar lightwave circuit (PLC) splitter is a type of optical power management device that is fabricated using silica optical waveguide technology to distribute optical signals from Central Office (CO) to multiple premise locations.
Tianyi

offers a variety of box and cassette type splitter modules and products. This PLC Splitter Module is a plastic module called an ABS box with ruggedized fiber jackets of 2mm and up to 3mm with no connectors. We

provide whole series of 1xN and 2xN splitter products that are tailored for specific applications. All products meet GR-1209-CORE and GR-1221-CORE requirements.
Features:
Low Insertion Loss

Low PDL (Polarization Dependent Loss)

Compact Design

High Reliability and Stability

Good channel-to-channel uniformity

Wide Operating Wavelength:




From 1260nm to 1650nm

Wide Operating Temperature:




From -40°C tp 85°C
Applications:
FTTX Systems

PON Networks

CATV Links

Optical Signal Distribution

Compliance:

Telcordia GR-1209-CORE

Telcordia GR-1221-CORE

RoHS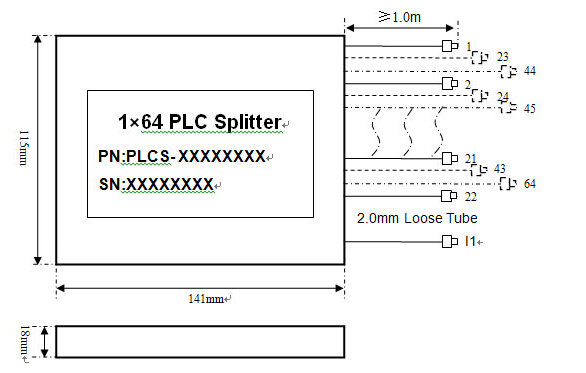 Specifications:
Parameter

Unit

1×2

1×4

1×6

1×8

1×12

1×16

1×32

1×64

Insertion Loss at 23°C

Typ.

dB

3.6

7

9.5

10.4

12.4

13.6

17

20.5

Max

dB

4

7.4

10

10.8

12.8

14

17.4

21

Channel Uniformity

Max

dB

0.6

0.8

1

1

1

1.3

1.5

1.8

PDL

Typ.

dB

0.1

0.1

0.1

0.1

0.2

0.2

0.2

0.3

Max

dB

0.2

0.2

0.3

0.2

0.3

0.3

0.3

0.4

Return Loss

Min

dB

50

Directivity

Min

dB

55

Operation Wavelength

nm

1260~1650

Operation Temperature

°C

-40-~+85

Storage Temperature

°C

-40-~+85

Fiber Type

-

G.657A or Customized
Parameter

Unit

2×2

2×4

2×8

2×16

2×32

2×64

Insertion Loss at 23°C

Typ.

dB

4.2

7.5

11

14.3

17.4

21.5

Max

dB

4.5

7.9

11.4

14.7

17.9

22

Channel Uniformity

Max

dB

1.2

1.5

1.6

2

2.5

3

PDL

Typ.

dB

0.2

0.2

0.2

0.2

0.2

0.3

Max

dB

0.3

0.3

0.3

0.4

0.4

0.5

Return Loss

Min

dB

50

Directivity

Min

dB

55

Operation Wavelength

nm

1260~1650

Operation Temperature

°C

-40-~+85

Storage Temperature

°C

-40-~+85

Fiber Type

-

G.657A or Customized
Product Size:
Parameter

1x2

1x4

1x6

1x8

1x12

1x16

1x32

1x64

Splitter Size(H*W*L mm)

10x80x100

18x80x120