Latest news
Contact us
ADD: No. 198, Industrial Avenue, Dayi County,Chengdu,Sichuan,China
TEL: 86-28-88222970
FAX: 86-28-88221336
E-mail: alan.tyco@gmail.com

> PON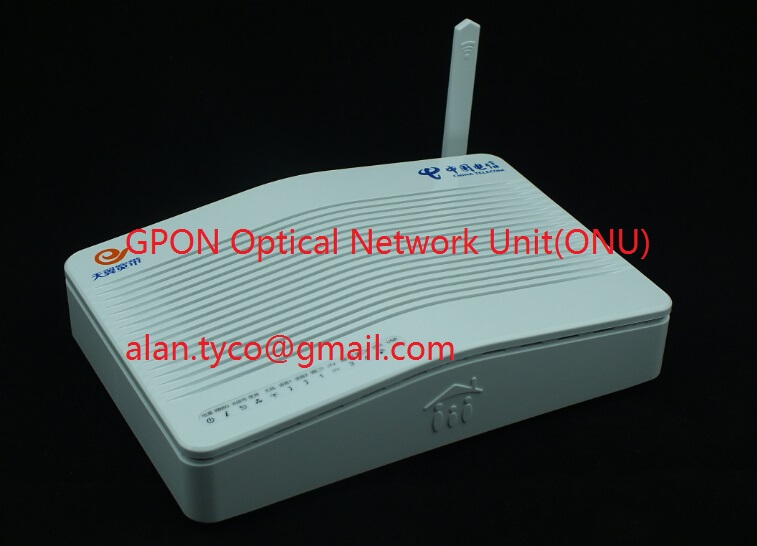 Optical Network Unit-ONU
Product description: TEWA-200AIG(GPON4+2 SIP) GPON Optical Network Unit for FTTH solution,which beated HUAWEI and ZTE, won the 2014 tender from China Telecom.
Product introduction
TEWA-200A/G GPON Optical Network Unit(ONU) is a feature-rich and cost effective home gateway solution for Triple Play service delivery to the home. The ONU has been designed to cater for current and future communications needs with capabilities for VoIP, Data and IPTV.
We beated HUAWEI & ZTE and won the 2014 tender of the GPON ONU from China Telecom.
Description of GPON Optical Network Unit(ONU):
ONT (Optical Network Termination), also called ONU (Optical Network Unit), refer to the consumer end equipment in an optical Fiber to the Home (FTTH) link. The ONT/ONU receives downstream data from the OLT (Optical Line Termination) through the passive optical splitters and provides video, voice, and broadband services to the consumer.
Features:
1. Plug and play, integrated auto detecting, auto configuration, and auto firmware upgrade technology.
2. Integrated OMCI and TR069 remote configuration and maintenance function.
3. Support rich QinQ VLAN, DHCP Server/Relay and IGMP/MLD snooping multicast feature.
4. Support fiber transceiver diagnostic monitoring, fiber transmitter disable remotely.
5. Fully compatibility with OLT based on Broadcom chipset etc.
6. Support 802.11n WiFi (2T2R) function.
7. Support NAT, Firewall function.
8. Support IPv4 and IPv6 dual stack.
9. Integrated line testing compliant with GR-909 on POTS.
l The WAN port supports bridge, router and bridge/router mixed mode.
Data Service Function:
1. Full speed non-blocking switching.
2. 2048 MAC address table.
3. 64 full range 4095 VLAN ID
4. Support VLAN QinQ, transparent, tag, translation, trunk, etc.
5. Integrated port monitoring, port mirroring, port rate limiting, port SLA, etc.
6. Support auto polarity detection of Ethernet ports (AUTO MDIX).
7. Integrated IEEE802.1p QoS with four level priority queues.
8. Support IPv4 IGMP snooping and IPv6 MLD snooping.
9. Support bridging, router and bridging/router mixed mode.
WIFI Service Function:
1. Integrated 802.11b/g/n, 300Mbps, 2T2R.
2. Support 128 connections.
3. Support WEP and WPA/WPA2 security protocols.