Latest news
Contact us
ADD: No. 198, Industrial Avenue, Dayi County,Chengdu,Sichuan,China
TEL: 86-28-88222970
FAX: 86-28-88221336
E-mail: alan.tyco@gmail.com

> Wi-Fi 6 Mesh Routers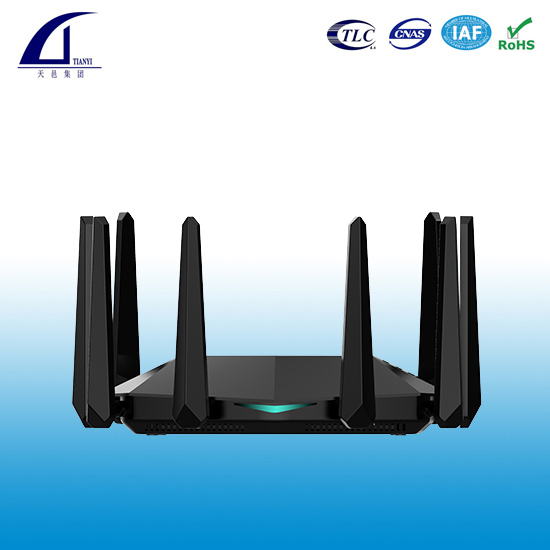 TY6332 AX3600 WiFi 6 Router
SOC Chipset:BCM 6755+BCM 6710
2*2 11ax@2.4GHz +2*2 11ax@5GHz+3*3 11ax@5GHz
Flash Memory:1 Gb
DDR3 Ram:4 Gb
Product description: Tianyi TY6332 AX3600 triple band Wi-Fi 6 Router is designed on latest Wi-Fi technology Next-Gen WiFi 802.11ax certified by Wi-Fi Alliance, offering 1.8Gbps for 5G high band, 1.2Gbps for 5G low band an
Product introduction
Tianyi TY6332 AX3600 triple band Wi-Fi 6 Router
Product Descriptions
Tianyi TY6332 AX3600 triple band Wi-Fi 6 Router is designed on latest Wi-Fi technology Next-Gen WiFi 802.11ax certified by Wi-Fi Alliance, offering 1.8Gbps for 5G high band, 1.2Gbps for 5G low band and 600Mbps for 2.4G band connections simultaneously for 3.6Gbps of total available bandwidth , can easily support online HD video playback, 3D games and other high speed applications.
Features:
【Super Fast WiFi with the Latest WI-FI 6 Technology】The TY-6332 ax wifi router uses the latest Wi-Fi 6 (802.11ax) standard to provide 4x increased data capacity to get ultra-fast wireless speeds, allow the router to provide industry-leading speeds of up to 600 Mbps on a 2.4GHz band and 1200 Mbps on a 5GHz low band and 1800 Mbps on 5GHz high band. An extremely powerful 3.6GHz 64-bit Tri-core processor powers through multiple complex tasks and demanding applications with ease. Provides greater network capacity and efficiency.

【UlTRA-STABLE and ULTRA-EFFICIENT WiFi PERFORMANCA】OFDMA technology enables efficient data scheduling so that more transmissions can be sent at the same time, this vast improvement in efficiency works for both uploads and downloads, reduced latency, and increased network efficiency. Comes with 4 Standalone RF FEM(Front End Module), extremely useful for latency sensitive applications such as virtual reality (VR), augmented reality (AR) and Internet of things (IoT) sensors.

【Connecting More Devices with MU-MIMO】With MU-MIMO, multiple users can access the router simultaneously without any decreases in bandwidth, boosts Wi-Fi data rates by 60%.

TY-6332

vastly reduces device disconnects in the home to experience smooth VR or enjoy lag-free online gaming, vivid 4K and even 8K streaming. Next-Gen WiFi 6 is compatible with IPHONE 11 and all new IPHONE in the future, you will enjoy blazing-fast speeds without any lag.

【UNBEATABLE WIFI COVERAGE】8 * 5dBi high-performance antennas extend strong and reliable WiFi signals over larger area. Aggregate 4 Gigabit LAN ports and 1 Gigabit WAN ports concurrently for the Multi-Gig experience.Ideal for stadium venues, enterprises and anyone who needs to connect a lot of devices and needs coverage for a over 2500 square foot multilevel home. Whether your family is gaming in the basement or streaming videos by the pool, everyone enjoys ultra-fast wireless speeds.

【Backwards Compatible】The 802.11 AX router standard will serve as the speedier successor to the more versatile 802.11ac. It will also maintain backwards compatible with previous wireless standards (802.11a/b/g/n/ac), something 802.11ac won't offer. Intelligently selects the fastest WiFi band for every device connection.
Main Components
Key Components

SOC Chipset

BCM6755

WiFi Chipset

BCM6710

Flash Memory

Flash 4GBit

SDRAM for CPU

DDR3 1GBit

Console

Internal console port (4 pin)
Interfaces
l Power Supply : Power adapter ( 12V/2.5A )
l Ethernet Ports : Five (5) 10/100/1000 (1 WAN and 4 LAN) Gigabit Ethernet ports with auto-sensing technology;IEEE802.3 , IEEE802.3u
l Button : Reset Push Button 、WPS Push Button
l Ports : 4x LAN Ports , WAN Port , WPS Button , Reset Button , DC Port (12V) Power Button ( Looking from left to right )
l LED :1 for Power\Internet\WPS
WIFI Performance
2.4GHz (802.11ax,2*2)

Standard

2.4GHz: IEEE802.11ax/IEEE802.11n/IEEE802.11g/IEEE 802.11b

Antenna

Two (2) internal antennas 3dBi

Connection rate

600Mbps

5GHz Low-Band(802.11ax,2*2)

Standard

5.0GHz: 802.11ax/802.11ac/IEEE 802.11n/IEEE 802.11a

Antenna

Two (2) internal antennas 3dBi

Connection rate

1.2Gbps

5GHz High-Band(802.11ax,3*3)

Standard

5.0GHz: 802.11ax/802.11ac/IEEE 802.11n/IEEE 802.11a

Antenna

Four (4) internal antennas 3dBi

Connection rate

1.8Gbps
SoftWare
Features
Feature Item

Feature

Detailed Description

Networking Protocols

802.1q/1p VLAN over RFC2684

bridge encapsulation

PPPoE

Support AUTO,PAP,CHAP,MS‐CHAP authentication.Auto or static IP address assignment.

PPPoE passthrough

Supports concurrent PPPoE clients inside the modem and PPPoE clients on the LAN devices.

PPPoE filtering of non‐PPPoE

packets between WAN and LAN

Support filtered non‐PPPoE packets.

Auto clean up of remote stalled PPP sessions at BRAS

IpoE

Support dhcp and static ip config

Transparent bridging between all LAN and WAN interfaces

WAN to WAN blocking in bridgemode

Ethernet as WAN

Networking

Full Cone NAT

DMZ Host

ALGs

FTP

TFTP

SIP

RTSP

H.323

Port Triggering

PPTP

IPSec/VPN and IPSec/L2TP

VPNs

IPSec VPN

L2TP client

PPTP client

Firewall/

Filtering

Stateful Inspection

Denial of Service suppression

ARP, ARP, Ping, Ping of Death, Land, SYNC, Smurf, unreachable, teardrop, SYN flood, fragggle, echo.

Packet filtering

PackPackets can be blocked based on interface, mac address, IP address, protocol, and port number.

LAN side firewall

By default, LAN side firewall is disabled

Parental

Control

Time of day usage restriction

URI/URL Filtering

Supports INCLUDE and EXCLUDE modes

QoS

IP/Bridge/802.1p

Rate Control on upstream traffic

Support SP, WRR,WFQ priority VLAN stacking (Q-in-Q)

Routing

RIP v1/v2

Enable RIP over multiple WAN interfaces

Policy Routing

Routes packets based on criteria other than destination IP address

IGMP

Proxy and snooping

IGMP v2 and v3

Support for IPv6

IPv6

IPv6 Ready Logo Certified

IPv6 Firewall

IPv6 capable apps

telnetd, ftpd, sshd, httpd

File systems

SquashFS

Filesystem used on NOR flash systems

JFFS2

Filesystem used on NAND flash systems

tmpfs

small read/write filesystem

VFAT

For USB automount feature

NTFS

For USB automount feature. Support for Unicode and files greater than 2GB requires a different toolchain.

DHCP Server

Support for multiple subnets

Static IP lease

DHCP relay

DHCP client

LAN services

Second IP address on LAN interface

DNS Proxy

Built in DNS server

Caching previous requests

WebUI

Protection against Cross Site Request Forgery attack

TR‐069

Digest Authentication, SSL and Basic Authentication, SSL and Digest Authentication

Auto‐launch and exit‐on‐idle

TR‐098

TR‐098 profile support

TR‐111 (part 1)

TR‐140

TR‐104

TR‐064

SNMP

v1/v2c agent

MIB‐II

UPnP

Internet Gateway Device (IGDv1.0)

Finite(24 hour) duration of virtual server entries created using UPnP

To protect against a scenario where a PC client creates a virtual server entry on the Broadband Router and then leaves the network without deleting the virtual server entry, virtual server entries created by UPnP has a maximum lifetime of 24 hours.

Security

Three level login(local admin, local user, remote support)

Service access based on incoming interface and/or source IP address

Automatic logout from CLI after inactivity

Audit and Logging

Send log to remote syslog server